PAPAVERINE HYDROCHLORIDE
Product Name:

CAS No.

Chemical Name:

PAPAVERINE HYDROCHLORIDE

CBNumber:

CB4689771

Molecular Formula:

C20H21NO4

Formula Weight:

339.39

MOL File:
PAPAVERINE HYDROCHLORIDE Property
Melting point:

226 °C

Boiling point:

475.36°C (rough estimate)

Density

d420 1.337

refractive index

1.6250 (estimate)

solubility

H2O: 25 mg/mL


form

powder


pka

6.4(at 25℃)

color

white


Water Solubility

37.33mg/L(37.5 ºC)

Merck

14,7019

BRN

312930
Product number:

10011133

Product name :

Papaverine

Packaging:

10mg

Price:

$75

Updated:

2021/03/22

Buy:
Product number:

10011133

Product name :

Papaverine

Packaging:

100mg

Price:

$225

Updated:

2021/03/22

Buy:
Product number:

10011133

Product name :

Papaverine

Packaging:

50mg

Price:

$131

Updated:

2021/03/22

Buy:
PAPAVERINE HYDROCHLORIDE Chemical Properties,Usage,Production
Chemical Properties
White crystalline powder; obtained asorthorhombic prisms from an alcohol–ethermixture; melts at 147°C (296.6°F); sublimesunder vacuum; insoluble in water; soluble inacetone, glacial acetic acid, and benzene.
Originator
Lempav Ty-Med ,Lemmon,US,1975
Uses
Papaverine occurs in opium to the extent of0.8–1.0%, commonly associated with narcotine.It is used as a smooth muscle relaxantand in medicine for its vasodilator action onthe blood vessels in the brain. It is effectiveagainst asthma.
Uses
folate metabolic inhibitor, coccidiostat
Uses
muscle relaxant (smooth), cerebral vasodilator
Uses
opium alkaloid
Definition
ChEBI: A benzylisoquinoline alkaloid that is isoquinoline substituted by methoxy groups at positions 6 and 7 and a 3,4-dimethoxybenzyl group at position 1. It has been isolated from Papaver somniferum.
Indications
Papaverine (Pavabid) is a nonspecific phosphodiesterase inhibitor that increases cAMP and cGMP levels in penile erectile tissue. Papaverine is particularly known as a smooth muscle relaxant and vasodilator. Its principal pharmacological action is as a nonspecific vasodilator of smooth muscles of the arterioles and capillaries. Various vascular beds and smooth muscle respond differently to papaverine administration both in intensity and duration. Papaverine decreases the resistance to arterial inflow and increases the resistance to venous outflow.
Manufacturing Process
To 3.65 g (0.01 mol) of monohydrated adenosine-5'-monophosphoric acid, brought into suspension in a mixture of 45 ml of water and 5 ml of ethanol, are added 339 g (0.01 mol) of papaverine base (melting point, 147°C). The mixture is gently heated until a final temperature of 40°C is reached. The solution obtained is then filtered and the filtrate is concentrated under vacuum. The remaining product quickly crystallizes. After drying to 50°C to constant weight, there are obtained 6.68 g of desired product, in the monohydrated state, as a white crystalline powder, which melts at 140°C and is very soluble in water.
brand name
Pavabid (Hoechst Marion Roussel).
Therapeutic Function
Vasodilator, Platelet aggregation inhibitor
Health Hazard
Papaverine is an inhibitor of cyclic nucleotidephosphodiesterase, producing vasodilatoryeffect. The acute toxic effects relative tophenanthrene-type opium alkaloids (e.g.,morphine, heroin) are low and the symptomsare not the same. Papaverine is neither a narcoticnor an addictive substance. Excessivedoses may produce drowsiness, headache,facial flushing, constipation, nausea, vomiting,and liver toxicity.
The LD50 data reported in the literatureshow variation. An oral LD50 value in rats ison the order of 400 mg/kg.
Mechanism of action
When administered by intracavernosal injection, papaverine, a weak and nonspecific PDE inhibitor, is thought to cause relaxation of the cavernous smooth muscles and vasodilation of the penile arteries by inhibition of PDE. These effects result in increased arterial blood flow into the corpus cavernosa and in swelling and elongation of the penis. Venous outflow also is reduced, possibly as a result of increased venous resistance.
Clinical Use
Papaverine is highly effective in men with psychogenic and neurogenic ED but less effective in men with vasculogenic ED. Papaverine–phentolamine combinations have been used in self-injection procedures. Papaverine doses may range from 15 to 60 mg. Papaverine treatment in patients with severe arterial or venous incompetence is usually unsuccessful, but autoinjections using low doses sufficient to achieve an erection are safe and efficient.
Side effects
Major side effects associated with papaverine therapy include priapism, corporeal fibrosis, and occasional increases in serum aminotransferases. Intracorporeal scarring may be related to the low pH of the vehicle that is necessary to solubilize papaverine.Attempts to buffer papaverine to render it more suitable for intracavernosal injection have not been entirely satisfactory, and such delivery may still lead to intracorporeal scarring.
Safety Profile
Poison by ingestion, intramuscular, subcutaneous, intradermal, intraperitoneal, and intravenous routes. Human systemic effects: coma, somnolence. Its central nervous system action is about midway between those of morphme and codeine, and large doses do not produce the amount of excitement caused by codeine or the soporific action of morphine. Mutation data reported. A cerebral vasodilator and smooth muscle relaxant. Combustible when exposed to heat or flame. When heated to decomposition it emits toxic fumes of NOx. See also MORPHINE.
Chemical Synthesis
Papaverine, 1-veratryl-6,7-dimethoxyisoquinolin (19.4.7), is synthesized from veratrol. Veratrol undergoes chloromethylation, forming 3,4-dimethoxybenzylchloride (19.4.1). Reacting this with potassium cyanide gives 3,4-dimethoxybenzylcyanide (19.4.2). The resulting 3,4-dimethoxybenzylcyanide undergoes reduction by hydrogen over Raney nickel, forming homoveratrylamine (19.4.3). At the same time 3,4-dimethoxybenzylcyanide (19.4.2) undergoes acidic hydrolysis giving 3,4-dimethoxyphenylacetic acid (19.4.4). The interaction of the resulting compounds brings to corresponding amide (19.4.5). The cyclization of this by Bischler–Napieralski method, using phosphorous oxychloride, gives 3,4-dihydropapaverine (19.4.6), which is dehydrated into the desired papverine when heated in tetraline at high temperatures.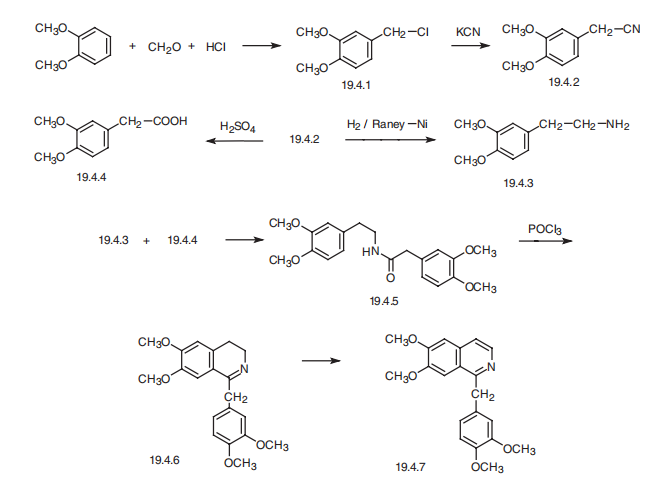 PAPAVERINE HYDROCHLORIDE Suppliers
58-74-2, PAPAVERINE HYDROCHLORIDERelated Search:
Elziverine
ethaverine
Papaverine hydrochloride
ethaverine hydrochloride
TOSLAB 11931
DIOXYLINEPHOSPHATE
AKOS 212-86
1-(2-bromo-4,5-dimethoxybenzyl)-6,7-dimethoxyisoquinoline
AKOS 220-09
PAPAVERINE HYDROCHLORIDE
Oxoglaucine methiodide
AKOS 245-39
Dimoxyline
AKOS 213-48
AKOS 220-25
AKOS AU36-M413
AKOS 220-10
AKOS AU36-M441
AKOS 220-12
Papaverine Labeled d6
Papaverine (See QP160960)
1-((3,4-dimethoxyphenyl)methyl)-6,7-dimethoxy-isoquinolin
1-((3,4-Dimethoxyphenyl)methyl)-6,7-dimethoxyisoquinoline
6,7-dimethoxy-1-veratryl-isoquinolin
6,7-Dimethoxy-1-veratrylisoquinoline
Isoquinoline, 1-[(3,4-dimethoxyphenyl)methyl]-6,7-dimethoxy-
Isoquinoline, 6,7-dimethoxy-1-veratryl-
papanerin
Papanerine
papaverin
Papaverina
Robaxapap
S-M-R
NSC 136630
Papaverine,99%
18) META CHLORO BENZALDEHYDE
isoquinoline, 1-[(3,4-dimethoxyphenyl)methyl]-6,7-dimethox
PAPAVERINE
PAPAVERINE HCL
Papacon
Papalease
Papanerin-HCl [German]
Papaveri
1-[(3',4'-DIMETHOXYPHENYL)METHYL]-6,7-DIMETHOXYISOQUINOLINE HCL
1-(3,4-DIMETHOXY-BENZYL)-6,7-DIMETHOXY-ISOQUINOLINE
6,7-DIMETHOXY-1-VERATRYLISOQUINOLINE HCL
6,7-DIMETHOXY-1-VERATRYL-ISOQUINOLINE HYDROCHLORIDE
58-74-2
Isoquinoline Alkaloids
Alkaloids
Cyclic Nucleotide Metabolism
G Proteins and Cyclic Nucleotides
Specialty Synthesis
Oligonucleotide Synthesis
Nucleosides
Phosphodiesterase Inhibitors
BioChemical
Cell Signaling and Neuroscience
Cell Biology